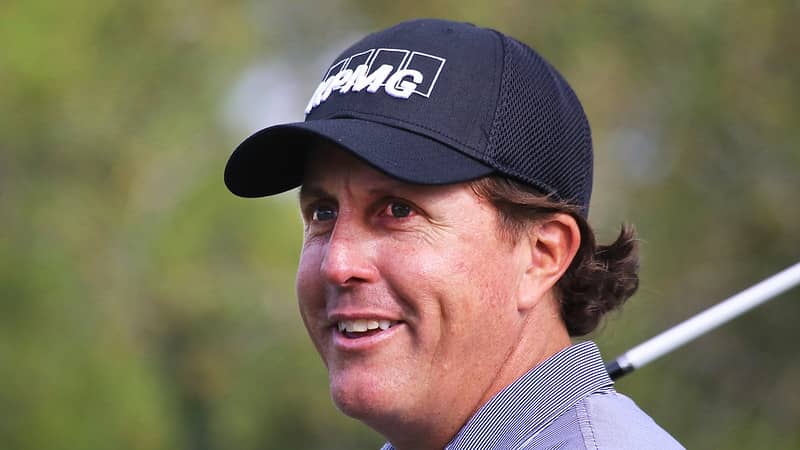 Phil Mickelson's age and 2021 PGA Championship is proving that age in golf is just a number. But there's a lot behind "just a number". What matters is what was before those 50 years. Phil Mickelson is a proof that creating a healthy balance between physical preparation and strong mental set up is crucial. Moreover, it applies if you want to play good golf in any age. Even though he was playing along the game's best of the best – Tiger Woods, he still manages to compete on a highest level. Gary Player described it perfectly as "Phil kept his cool in 2021 PGA Championship and won!".
He kept his cool and although things got nervy at points, it always seemed like he would emerge victorious.

Gary Player
Everybody is talking about Phil Mickelson's age
Phil Mickelson's age has been something golfing world did talk about recently a lot. This is even more relevant to his astonishing win at 2021 PGA Championship. The fact that he's over 50 years old isn't stopping him from competing with much younger golfers. This is giving a lot of hope even for older players to play well. In this case age is just a number.
Almost every golfer knows that Phil was born June 16, 1970 and that his nickname is lefty. The reason for that is following. While he was learning to play golf from his father, he mirrored father's swing. This explains why the naturally right-handed Phil did adopt the left-handed stroke. In addition, this later lead to his nickname, "Lefty."
The way how Phil is adjusting his thinking to the fact that as naturally right-handed person to left-handed golfer is astonishing. We know that the left part of the brain controls the right side of our body. However, if he wanted to apply it for himself (right-handed person but left-handed golfer), he needed to think differently. He was using this extraordinary ability to "muscle up" his thinking just like you are using physical workout in the gym. To clarify, he is doing it from an early age, therefore he is excellent with more tasks than people who are not thinking / acting this way. No wonder that he became the first with a left-handed swing to win the U.S. Amateur title.
Phil Mickelson uses his age as an advantage and here's what you can learn from it
Learn from the past success as well as mistakes! Phil has unique ability to learn from his mistakes of the past.
Mind training, also know as mental game training is important in every age! From an early age he developed a way of thinking more clearly just because he's naturally right-handed but plays golf as left-handed. That is to say – you can (and must also) train your brain in every part of your life.
Age is relative variable in your golf game! Phil Mickelson's age is over 51 in 2021 and yet he's not looking at it as something that could slow him down to compete on a highest level in golf.
You can't stop aging, therefore learn from others! Unfortunately for Phil, age will eventually show up in his results somehow, someday… Our body is closely connected to aging and we can't stop it.
You must adopt fast as time is ticking! Phil Mickelson is still giving many golfers a lot by living as an example of a player who learns and adopts.
LIV and Phil Mickelson – News
What about Phil Mickelson News? What did Phil Mickelson say about golf in past months is interesting. Moreover, when we want to talk about his relationship with a new golf LIV golf tour. As we know, he made a move to new golf tour that is different from PGA Tour. Along with other players, such Greg Norman, Brooks Koepka and others, Phil started new golfing adventures.
Phil Mickelson Masters attendance in 2023 seemed controversial first but in the end, the PGA Tour players and LIV tour players did go well along. Phil Mickelson LIV coplayers were sighting on green jacket but victorious was PGA Tour player Jon Rahm.
Conclusion
What can you take from this? 2 things. Number one thing is to gather experience. This is what I can't help you with. You, yourself must go out and play, practice, compete, loose, suffer, getting better, train in sun and in the rain, in hot and in cold. You, yourself must go out and try your best, you must gather your won experience. The second thing is your mind set. And this is what I can help you with as this is my main expertise.
For past decade I'm working with golfers like you, with golfers from all possible corners of this planet. They are amateurs as well as professional players. I'm showing them how to acquire necessary set of skills for mental advantage on and off golf course. First, we are working on their mind set, then we are setting and adjusting their own goals, continuously we create thinking routines so that golfers like you are ready for the battle.
Many of these golfers are suffering just like you are suffering on the golf course, despite that they are giving their best, using the most recent golf clubs, playing on the best available golf courses. But the only thing that they are missing is the level of control of themselves, their emotions and their focus directly in the golf game. So if you think that this might be something in which you would like to get more experience or even master yourself, I'm inviting you to try it for free, just by visiting my ACADEMY.
Long clubs of Phil Mickelson
If you want to use golf equipment as Phil Mickelson is using in 2021 this is the list. In this list you will find links to places where you can purchase them for yourself.
Driver – Callaway Epic Speed
Get the driver here: United States, United Kingdom, Deutschland, France
Mini driver – TaylorMade Original One
Get the mini driver here: United States, United Kingdom, Deutschland, France
4-wood – Callaway Mavrik Sub Zero
Get the 4-wood here: United States Amazon, United Kingdom Amazon, Deutschland Amazon, France Amazon
Irons of Phil Mickelson
Irons – Callaway X Forged
Get the irons here: United States, United Kingdom, Deutschland, France
Wedges – Callaway PM Grind
Get the wedges here: United States, United Kingdom, Deutschland, France
Putter of Phil Mickelson
Putter – Odyssey "Phil Mickelson" blade prototype (alternative shown below)
Get the putter here: United States, United Kingdom, Deutschland, France
Golf ball of Phil Mickelson
Golf ball – Callaway Chrome Soft X with Triple Track
Get golf balls here: United States, United Kingdom, Deutschland, France
As an Amazon Associate Mario Beky Golf earns from qualifying purchases.